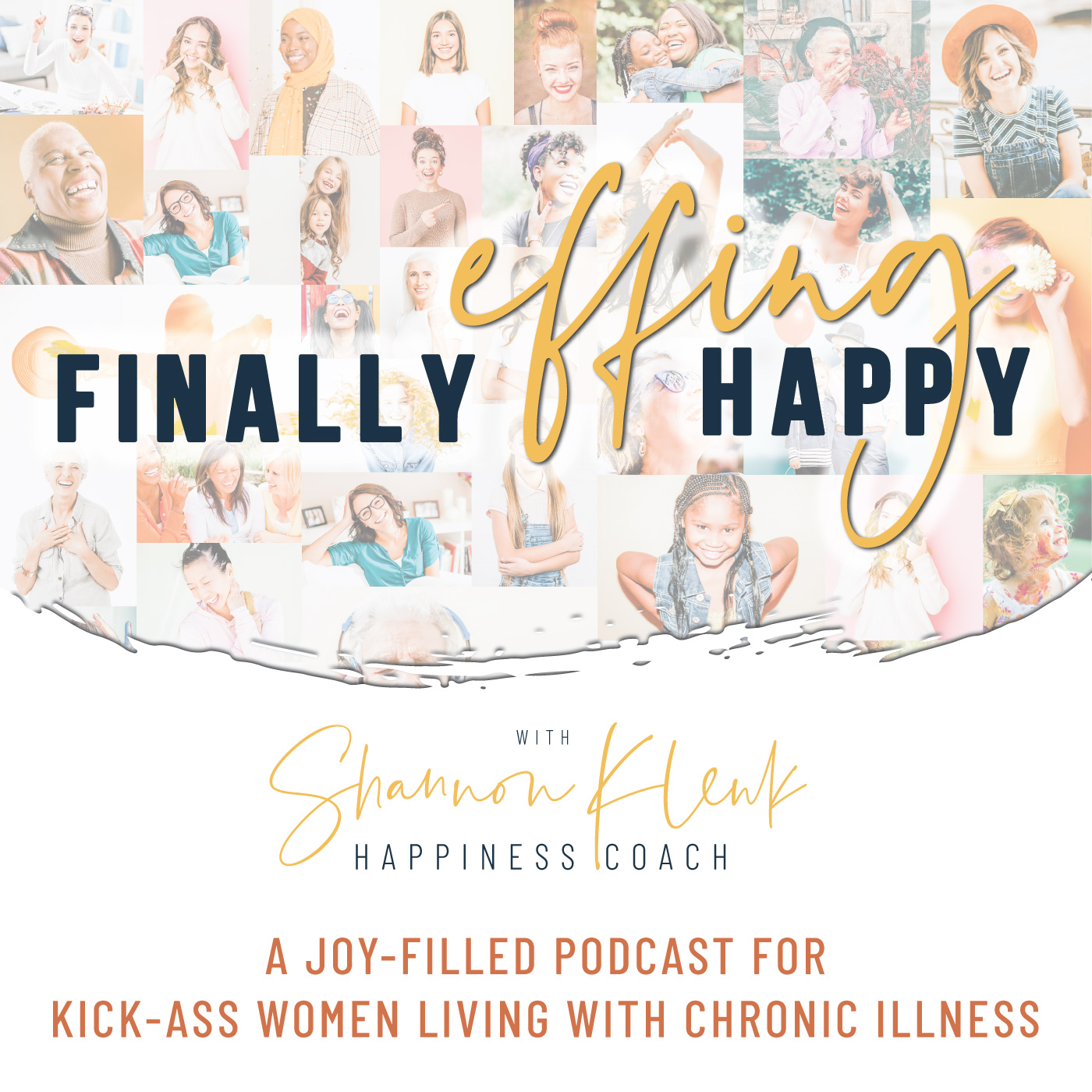 A little bit of sass, a whole lot of heart, sprinkle in some self-care and positive mindset, wrap it in a slightly irreverent sisterhood of fun, and you've got Finally Effing Happy! Happiness Coach, Shannon Klenk shares her personal journey, countless happiness hacks, self-care strategies, and inspirational interviews to encourage you along your own journey to joy. This is NOT a podcast about ill-ness. It's about living joy-FULLY with chronic illness as a busy, can-do woman with kids, jobs, friends, feelings, and dreams of our own. You know a lot about you. This podcast will unlock & ignite that knowing through positive mindset and practical action. Shannon will show you how to build a self-care super structure while nurturing a healing mindset for chronic illness recovery so that you can live with joy, purpose, and energy. If you are a woman living with chronic illness, you are amazing. You do amazing things day-in and day-out. Shannon is passionate about bringing us together to celebrate, motivate and share. Sisterhood can make all the difference in a day. This will be the most fun & practical chronic illness support group you've ever found. Hi - I'm Shannon, Happiness Coach and Self-Care Strategist. My Primary Immunodeficiency (PI) Disease wasn't properly diagnosed until my early 40's. That means I've spent much of my life sick. I was an exhausted, single-parent, working full-time, somehow showing up day-in, day-out taking care of those around me. I know what it's like to dig deep and get into action when every fiber of your body doesn't want to. I know what it means to take a stand for my own happiness, and be willing to move toward it. Slowly. Steadily. But surely. If you are an amazing kick ass woman who somehow shows up day-in and day-out, taking care of your family, friends, careers, and communities, all while living with chronic illness, I hope you will come join this heartfelt sisterhood for inspiration, strength, and, yes, happiness! Learn >>> www.finallyeffinghappy.com Connect >>> finallyeffinghappy@gmail.com Community >>> https://bit.ly/FinallyEffingHappyGroup Email List >>> https://bit.ly/FinallyEffingHappyEmailList Work with Shannon >>> https://bit.ly/FinallyEffingHappyWithShannon
Episodes
Monday Aug 16, 2021
Monday Aug 16, 2021
Do you ever feel blah for days on end after you get home from vacation?  Or even just now as kids go back to school and we approach the end of summer?  
Here are 10 super practical tips to curb those post vacation blues and dive back into your happiness lifestyle, enjoying the fruits of authentic positive thinking and stellar self-care!  
Today's Takeaways:
Post vacation blues are real; but be mindful of who you seek support from.  

Plan ahead, if, and where, you can.

Get your body moving but give yourself time to rebuild after you get home.

Jet lag, flight fatigue, car exhaustion is real - and although you are close to being a super woman, you too will be affected by them.  

Buy a water bottle, mug, or glass to hydrate from when you get home.

Have something from your trip to trip your senses. 

Intentionally reminisce over photos during coffee or dinner.

Incorporate little things into your day that intentionally bring you joy.

Don't take it out on others.  

The 72 Hour Rule!
Connect with Shannon:
Learn >>> www.finallyeffinghappy.com 
Instagram >>> https://www.instagram.com/finallyeffinghappy/ 
Connect >>>  finallyeffinghappy@gmail.com  
Community >>>  bit.ly/finallyeffinghappygroup
Email List >>> bit.ly/finallyeffinghappyemaillist