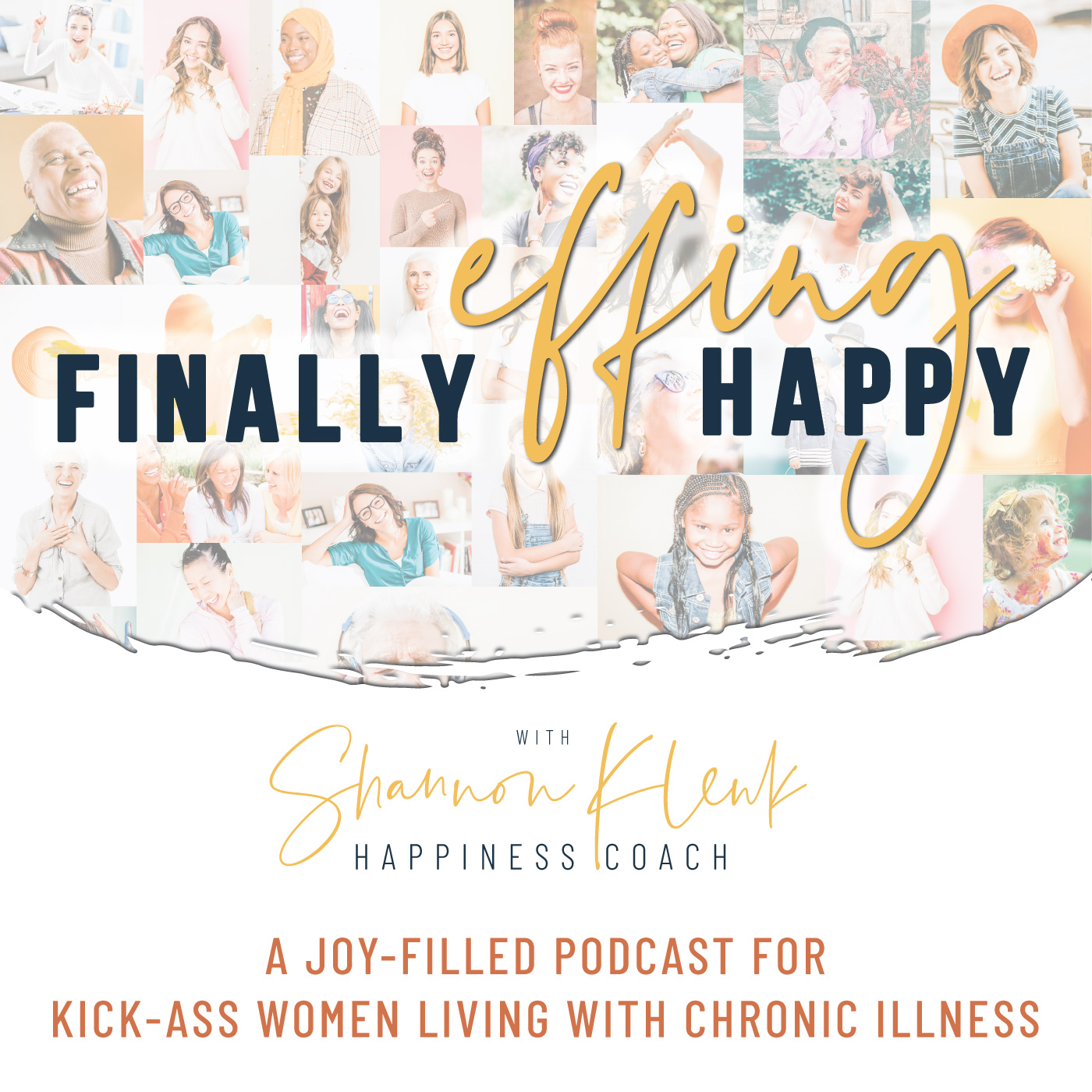 A little bit of sass, a whole lot of heart, sprinkle in some self-care and positive mindset, wrap it in a slightly irreverent sisterhood of fun, and you've got Finally Effing Happy! Happiness Coach, Shannon Klenk shares her personal journey, countless happiness hacks, self-care strategies, and inspirational interviews to encourage you along your own journey to joy. This is NOT a podcast about ill-ness. It's about living joy-FULLY with chronic illness as a busy, can-do woman with kids, jobs, friends, feelings, and dreams of our own. You know a lot about you. This podcast will unlock & ignite that knowing through positive mindset and practical action. Shannon will show you how to build a self-care super structure while nurturing a healing mindset for chronic illness recovery so that you can live with joy, purpose, and energy. If you are a woman living with chronic illness, you are amazing. You do amazing things day-in and day-out. Shannon is passionate about bringing us together to celebrate, motivate and share. Sisterhood can make all the difference in a day. This will be the most fun & practical chronic illness support group you've ever found. Hi - I'm Shannon, Happiness Coach and Self-Care Strategist. My Primary Immunodeficiency (PI) Disease wasn't properly diagnosed until my early 40's. That means I've spent much of my life sick. I was an exhausted, single-parent, working full-time, somehow showing up day-in, day-out taking care of those around me. I know what it's like to dig deep and get into action when every fiber of your body doesn't want to. I know what it means to take a stand for my own happiness, and be willing to move toward it. Slowly. Steadily. But surely. If you are an amazing kick ass woman who somehow shows up day-in and day-out, taking care of your family, friends, careers, and communities, all while living with chronic illness, I hope you will come join this heartfelt sisterhood for inspiration, strength, and, yes, happiness! Learn >>> www.finallyeffinghappy.com Connect >>> finallyeffinghappy@gmail.com Community >>> https://bit.ly/FinallyEffingHappyGroup Email List >>> https://bit.ly/FinallyEffingHappyEmailList Work with Shannon >>> https://bit.ly/FinallyEffingHappyWithShannon
Episodes
Tuesday Sep 21, 2021
Tuesday Sep 21, 2021
Morning routines boost happiness, reduce stress, increase productivity and create a solid foundation to launch you into your day.  But it can be hard to create an effective one, let alone stick to it.  As I am re-tooling my morning routine now that none of my kids are at home, I thought I'd share some of my favorite tips for transforming your morning routine.  Here are a few key takeaways from today's episode:
You have a morning routine, it just may not be very supportive.

There are things you cannot change about your morning, but you DO have influence and impact on what you pack into your morning routine.

An 'alarm' is designed to trigger your fight or flight instinct.  Think about that; maybe not the most peaceful way to start your day.  

Feel all four corners of your feet on the floor, the very first thing, to ground you into your day.

The synapsis in your brain will fire differently if you do NOT look at your cell phone first thing. 

Both a short routine and long routine can meet all your essential start-your-day needs.  

Don't give up on a morning routine just because you aren't a morning person.

Commitment to your morning routine begins the night before.

Hydration, movement, mediation - some is better than none. 

Pick one area of improvement in your morning routine and just work on that one thing.

Perfection is NOT the goal!
How to connect with Happiness Coach, Shannon Klenk:
Everything Finally Effing Happy >>> www.finallyeffinghappy.com
Connect with Shannon >>>  finallyeffinghappy@gmail.com
Instagram >>> @FinallyEffingHappy
Community >>>  bit.ly/finallyeffinghappygroup
Email List >>> https://bit.ly/TheEffingEmailList  (heehee)
Work with Shannon >>> bit.ly/WorkingwithShannon
Befriend Your Inner Critic - Registration Page:
https://bit.ly/befriendyourinnercritic2021
EPISODE SPONSOR:
Kat Correa
www.YourInspiredWords.com
Instagram >>> @thesoulfirecollective_